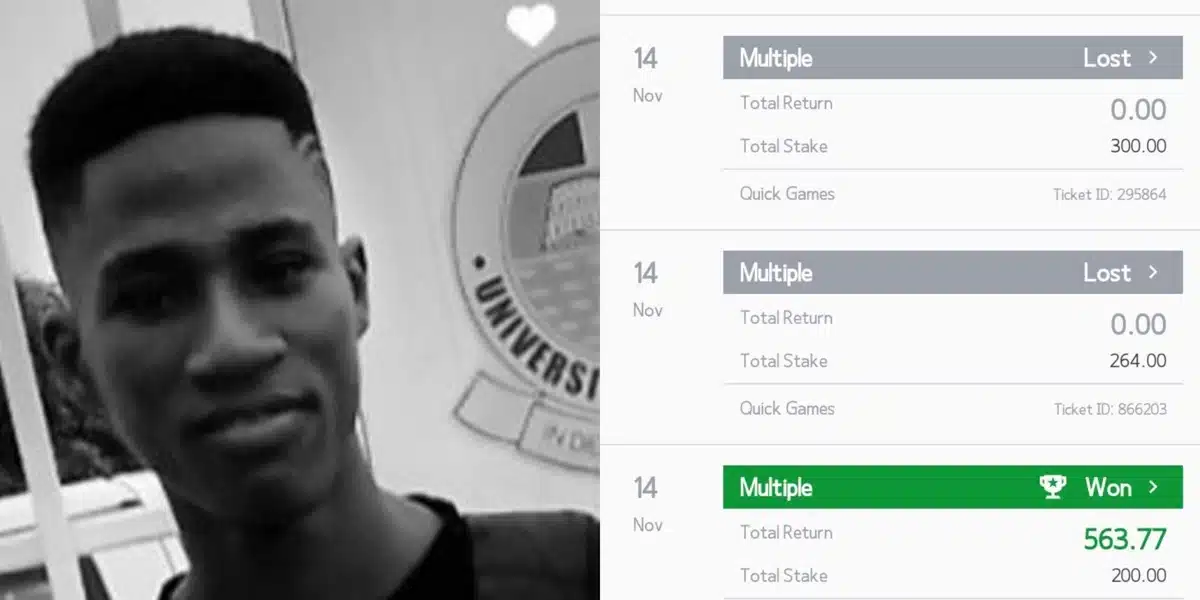 A young man has cried out to the public for financial assistance after losing his entire school fees to betting
The young man informed Netizens via his Twitter account, @YusufOp21648411, where he shared details.
According to him, he had been following a famous punter who promotes sporty virtual for months and since he needed money urgently he decided to stake his school fees on the betting codes the punter gave.
However, luck was not on his side as after playing the games repeatedly, he was not fortunate to win any.
In his words;
"Good morning people, I am here today to ask for help. I've been watching a punter promote sportyvirtual for months and being in urgent need of money I decided to stake my sch. fees and didn't give a desired output, I followed all of @_kennyblaze1391 and I didn't win a single game
Virtual betting tips, but all to no avail. Please Nigerians I need your urgent help. please I beg of you all help me. Course registration would soon end and there's no way I'll be able to write exams if I don't pay on time. Please, I lost a total of 240000 and….
It's so unbelievable and I'm so livid I want to k!ll myself… @mrbayoa1 @Mrbankstips @Ekitipikin @_kennyblaze1391 @LouieDi13 @betgains please help"
Most Nigerians are insensitive to his plight as they believe it is gross irresponsibility to stake your school fees on sports betting.
See post here..

See some reactions to the post:
@WBraddum17477 asked: "Wat were you thinking when you lost b2b 4-5times, if you won will you ask for help ? Bet responsibly"
@DpEsho advised: "Try again with bet9ja, you just might win like him.
P.S: he has a VIP account."
@Andyyeun11 said: "U sef don try.. go dey sell table water for traffic 😅😂"
@evilmadss wrote: "this is your cross to carry, you're liable for your own mistakes so deal with it"
@bigdamz1 reacted: "Omo yusuf 😭😭😭😭 u get mind put 60k for virtual 🤣🤣"