She says one thing, whereas Mr Ibu's son is saying that she's lying.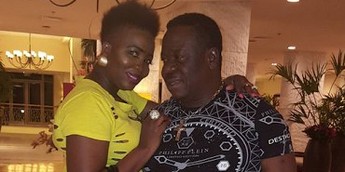 Daniel began, "My name is Daniel Okafor; I am John Okafor's second son. There is no truth in what Stella Maris has been sharing online. Jasmine does not have access to that account; I have access to it. I am the signatory to the account and my father's next of kin. She is my stepmother. My mother is not around at the moment."
This comes after Stella took to her Instagram page on Sunday, November 12, 2023, alleging that Mr Ibu's adopted daughter was trying to make her an outsider by locking her out of the account. Stella claimed that Jasmine manipulated her into giving up control of the account, however, Daniel stated that she never had control to begin with.
She cried, "I do not have access to the main Access bank account where people make donations. It is being secretly controlled by Jazmine yet she is cooking up all kinds of lies and propaganda against me to keep absolute control of that account. How she manipulated her way and took control of that account is a story for another day.
The renowned actor recently had one of his legs amputated in a feat to save his life from an illness he has been battling which left him hospitalised. The family sought help from compassionate Nigerians to foot the medical bills, and people have made donations and sent prayers their way since. However, there is some